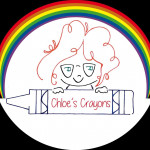 Chloe's Crayons
Category: Kids & Baby
🖍Personalized Crayations 🖍Handmade with Love for a purpose 🖍DM inquiries, order or collabs 🖍Mississauga 🇨🇦 Kidpreneur 🌈Saving the 🌏 one 🖍 at a time
City: Mississauga,
State/Province: Newmarket,
Country: Canada
Reviews
---
Amazing Quality & attention to detail
By Marissa C. on Nov 11, 2021
You can tell that Chloe loves what she does as it shows in all of her work. I had the pleasure of purchasing some crayons from her as an add-on for some birthday gifts. The colours and detail in her Crayations show the love and care she puts in each piece. Chloe herself is just as colourful and amazing as her crayations. Keep up the amazing work and you will change the world, one crayon at at time <3.
Beautiful crayons
By Jennifer R. on Sep 11, 2021
I order personalized crayons for my children and some for gifts. Chloe is so amazing and created beautiful colours. Each one was different. I love that she included inspirational erasers. They were the perfect little gift just before school. I will definitely be ordering more in the future l.
Others Sellers You May Like
---