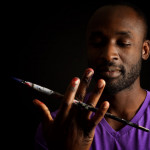 Jibola Studios
Category: Art
Hi there :) For prints of my work, dm me or visit my website. Thank you.
542.29 km
City: North York,
State/Province: Ontario,
Country: Canada
Reviews
---
An Amazing Artist. Great Quality Prints
By Rosanna S. on Dec 25, 2021
I have been a fan of Jibola Studios for a while. I bought one of his first original pieces - The Nomad - in Toronto. But, I was never really interested in print until I saw the quality of his prints. The material he uses is durable and sturdy so they last a long time. I love the fact that they come in easily frameable sizes which you can easily find if you just pop into Ikea or any frame store and voila. No need to spends tons of money on custom frames after you buy the prints. Did I mention how modern and easy to style his pieces are?I am a fan. I recommend.