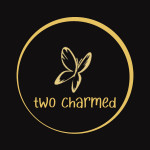 Two Charmed
Category: Jewelry
Welcome to Two Charmed! This small business is run by twin 12 year old KEO's-Kid Executive Officers and me, their mom Diana. Two Charmed began for a reason. My girls are trying to a find way to help others while making a difference in their community. From their love of creating, came making beaded bracelets and so much more! They are also selling with a purpose. They will be donating part of proceeds from the sale of the bracelets to local charities and hospitals monthly and/or bi-monthly. Another reason for doing this, it helps them work through anxieties they are facing for various reasons, from what is going on in the world around them while dealing with their own battles. It helps them to be creative and alleviate their anxieties while knowing that they are making beautiful jewellery, hoping it will make a difference in the community. Please visit us @two_charmed_ on Instagram. We hope you enjoy our creations as much as my girls enjoy making them!
532.56 km
Reviews
---
Service with love
By Marissa C. on Nov 11, 2021
You can tell that Ashley & Melissa are passionate about what they do by their craftsmanship. Not only are their bracelets beautiful, but they offer an large selection of beads and designs. Two Charmed is the perfect place to find that unique gift for that special someone in your life.
Others Sellers You May Like
---