It's an abbreviation that you likely heard in some marketing meeting but unfortunately went over your head at that brief moment in time. Nonetheless, it's reared its head again, forcing you to open up your laptop and research to find out precisely what a PPC is. We detail everything you need to know and how your business may profit from correctly using them.
What Exactly is a PPC?
So, straight to it. A PPC is an abbreviation for a digital marketing term called 'Pay Per Click'. Pay Per Clicks is a form of advert used by businesses to generate traffic. When the advert is clicked by someone, the business pays a stipulated fee to the website or account that displays that advert.
PPC's function in three areas – search results on a related browser, websites, and social media platforms. In each of these, the goal of a PPC campaign is to attract and direct visitors to your website instead of waiting for them to find your brand organically – or simply by luck.
Take this example for instance. You're a budding organic food farm but you're struggling to generate traffic, sales, and just unable to showcase your brand. It's decision time. You decide to implement a PPC campaign with Google. It will enable your website to be shown among the first results when people search for 'organic food'. Each time a person clicks on that advert, you must pay Google a certain fee otherwise known as a CPC or Cost Per Click.
This exchange enables you to 'buy' visitors in which you can then direct them to the next stage of the buying experience.
How PPC's Enhance Business Objectives and Growth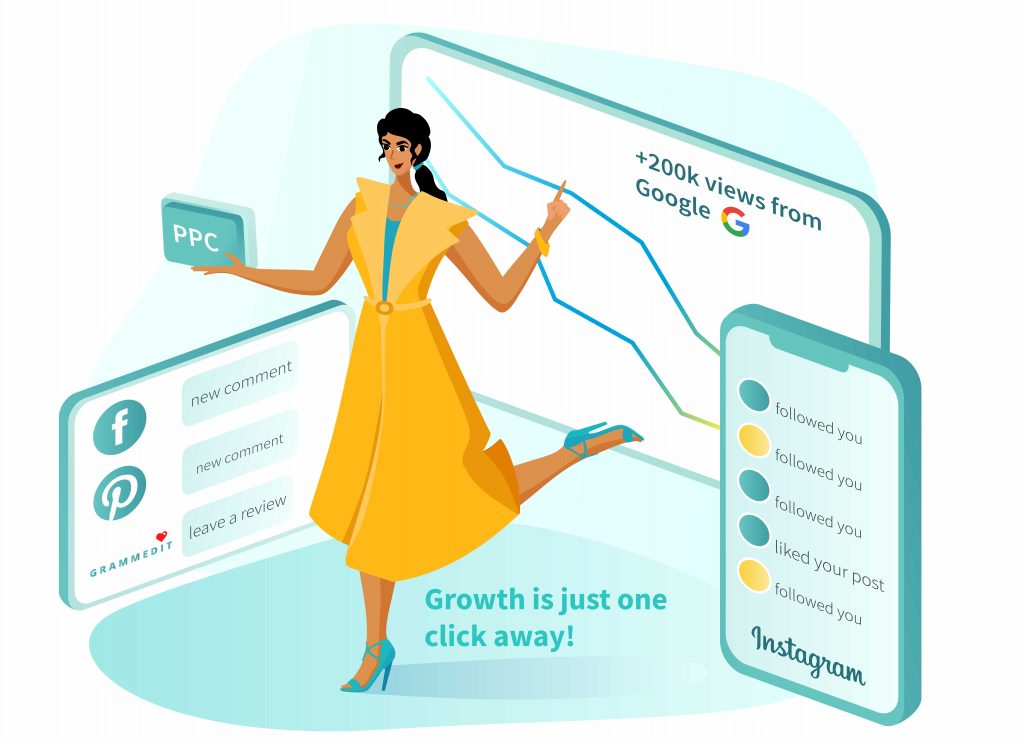 An effective digital marketing strategy is the foundation on which to advertise your business, yet PPC's can play a significant role in boosting traffic and generating sales – when used correctly! While your business or brand has several objectives to reach, a PPC campaign works hand-in-hand with it – ultimately resulting in those objectives being reached not only easier but faster as well.
The immediate benefit of PPC's is that their performance can be measured and tracked, enabling you to make changes where necessary. If a campaign is not providing the results that you envisioned, the available information will help you find the culprit that inhibits your brand from reaching its targets.
Although PPC's may seem like an easy solution to garner immediate traffic and sales, it can also promote long-term success in growing your target audience and overall following. By combining a search engine PPC campaign with a social media PPC campaign, you can expand your reach and attract prospective customers that have been desperate for a brand such as yours.
The Volatility of PPC's
At this stage, PPC's sound like an absolute slam dunk! But, as with anything, there are some drawbacks to a PPC campaign that may be detrimental to your digital marketing strategy and advertising efforts.
1. Competitive Niche
The decision to start a business in a specific niche is often based on an understanding that there's an opportunity or that it suits your skillset and knowledge. Unfortunately, the proliferation of the internet and social media has seen an enormous increase in the number of brands desperate to reach an audience – just like yours.
As the niche becomes more competitive, this drives up the price of PPC'S that may at one point in time cost a dollar, they may now cost upwards of 20 dollars.
PPC's definitely provide a greater chance of converting leads, but it doesn't guarantee them. The objective of a PPC is to direct the person responsible for the click to a sales page or landing page. From that moment on, it's your responsibility to ensure that the buying experience is made as simple as possible to improve your prospects of a sale.
Make sure your product or service stands out and shows its sensational benefits to the reader. Transition from this point and direct them by using clear CTA's before the final buying decision.
3. The Long-Term Cost of a PPC Campaign
As a small business, PPC's represent your immediate chance of success. Yet it's important to note that the cost implications over the long-term may not coincide with the benefits of a PPC campaign – and your budget.
Before making the decision to implement a PPC campaign, outline its length and budget – and stick to it!
The Simple Steps to PCC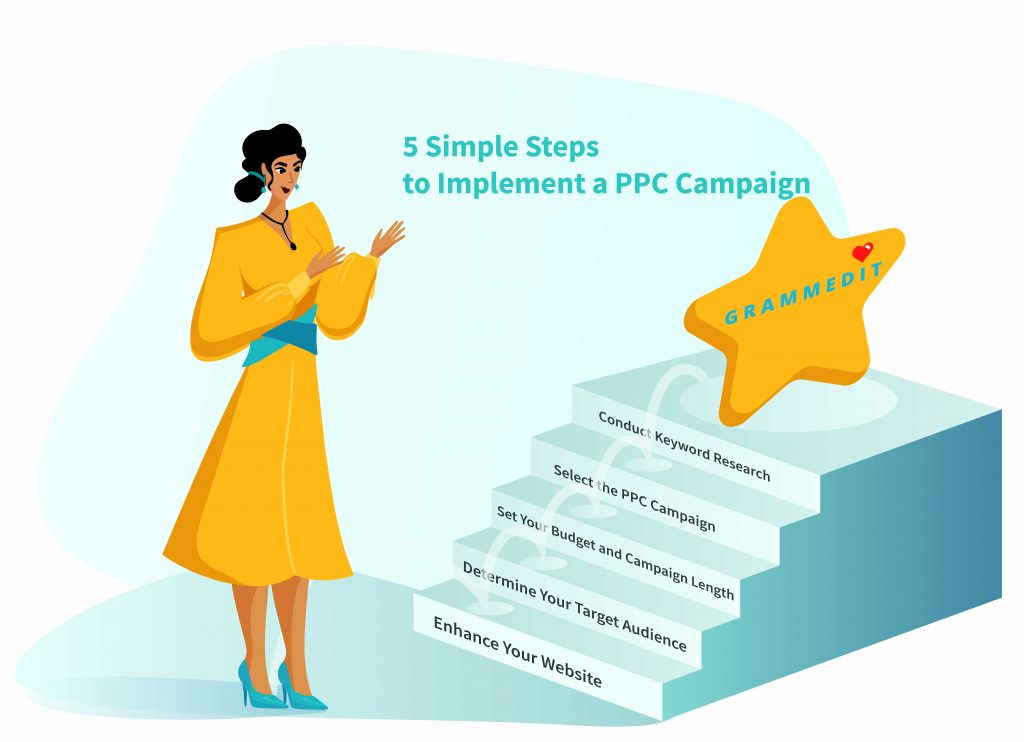 Incorporating a PPC campaign into your existing digital marketing strategy follows similar steps to that strategy. We outline what you need to know in these 5 easy-to-follow steps.
1. Enhance Your Website
Without an attractive website and compelling offer, what will people do when they've clicked and made their way to your website? The most likely answer – leave within a matter of seconds! Your website is pivotal and must guide prospective customers throughout the buying experience.
You don't throw a dart without having a dartboard, do you? We hope not! With the dart reference out of the way, you need to determine the exact audience that you hope to reach. It's likely that you already have an audience in mind but for the PPC campaign, you need to be specific. Understand the age of your audience, what media do they consume, what problems will the product/service solve, and where are they in the buying experience?
3. Set Your Budget and Campaign Length
If you're new to setting up a PPC campaign, it would be best to start with a small budget and a specific time frame. This provides the chance to familiarize yourself with how the PPC campaign affects your traffic and growth. More importantly, the information clearly outlines what areas of the campaign need to be changed.
Be smart with your money. Spend within reason and within your budget.
The choice of a PPC campaign will be largely driven by your target audience and the media platforms that they frequent the most. In this case, if your target audience primarily uses Instagram, you would rather focus your PPC campaign there to achieve the best results.
The keyword is a phrase that digital marketers love to use and for good reason. Keywords are those terms that your target audience is most likely to enter when searching for a product, service, or business.
While there are many websites that provide keyword results, Google Ads is a fantastic tool to narrow down on keywords related to your niche. Like your target audience, ensure that your keywords are specific yet strike a balance between specificity and rarity.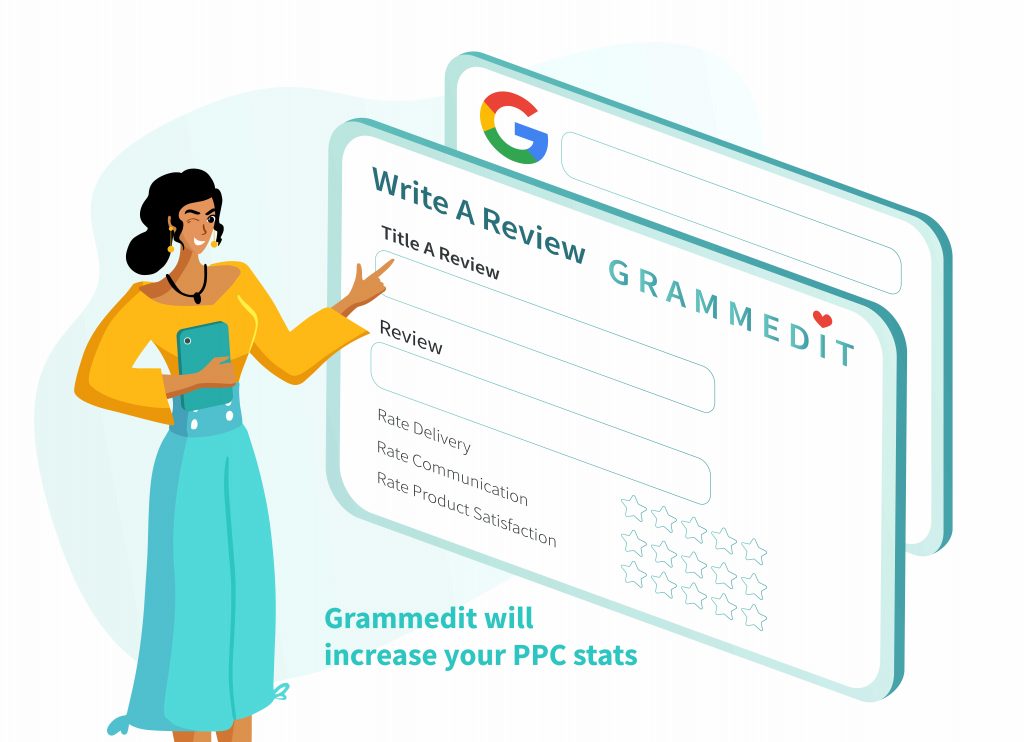 Grammedit is the first reputation management platform that is dedicated to '@' businesses. As a comprehensive platform, Grammedit works closely with your PPC campaign to attract an audience of loyal customers while fostering fantastic relationships. The successful implementation of a PPC campaign will have profound effects on your business, yet Grammedit provides several further benefits to enhance your brand:
Greater brand recognition.
Facilitates greater communication.
Accurate and detailed analytics.
Increase in site traffic.
Attracts a larger, dedicated following on social media – especially Instagram.
Consistent flow of prospective customers.
Greater authority within your niche – a result from the review and star rating process.
VIP access to the first flexible ecommerce platform for social media (coming soon).
Final Thoughts
The world of digital marketing and PPC's can be difficult to navigate for small business owners whose priorities lie elsewhere. However, PPC's can play a significant role in attracting prospective customers. By nurturing relationships with these prospective customers, they will in turn change into avid supporters of your brand that will come back to you time after time.
Implementing a PPC campaign requires patience and the ability to overcome mistakes that we all make along the way – let's keep those to a minimum!
Have you implemented a PPC campaign before? If so, what were some of the mistakes that you made and how did you resolve them? Share your story in the comments section below.