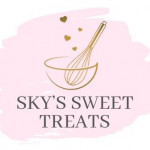 Sky's Sweet Treats
Category: Home
Sky's Sweet Treats is your one stop shop for all things sweet! From cupcakes to cookies, chocolate covered Oreos too cakesicles and treats all in between. We have something for everyone and are sure to be a crowd pleaser at your next event!
552.88 km
Reviews
---
Cupcakes
By Nicole S. on Sep 30, 2021
During last weeks Market, I got the chance to finally try Sky's cupcakes and they were AMAZING ! The way she makes the buttercream for each cupcake is completely different and out of this world. My favourite was the Salted Pumpkin Caramel cupcake, it was the perfect amount of sweet and salty. For my next major event I will absolutely be ordering from her. Thank you again!
Others Sellers You May Like
---