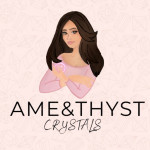 Ame&Thyst Crystals
Home
Whitby, Ontario, Canada
Welcome to Ame&Thyst Crystals High Quality, Ethically Sourced Crystals
Reviews
---
10/10 Would recommend
By Cody A. on Sep 7, 2021
The owner of this crystal shop is so nice to work with, very knowledgeable about the crystals and properties, benefits that crystals give us. The crystals are beautiful and are affordable to fit your budget. The owner does amazing job at wrapping the crystals up so they do not break or chip during shipping/pickup. Replies quite quickly to any questions or concerns regarding the products you have bought from herI'd totally recommend shopping and helping out this small business!
Support small businesses!
By Dana K. on Sep 6, 2021
The owner of this crystal shop has been a longtime friend of mine and when I saw she started her own business, I knew I had to support it. Everything is ethically sourced and beautifully and carefully packaged. The prices are so good! And the quality is even better. Evan pours her soul into this wonderful business so please help and support it.
Crystal Heaven
By Nikita R. on Sep 6, 2021
I have recently became obsessed with crystals, and came across @ameandthyst.crystals on Instagram, and it worked out perfectly because she is nearby. She has the most beautiful pieces and I am in love with every single piece I have purchased from her. The owner herself is so kind, and is so accommodating!
Others Sellers You May Like
---