We ALL love Instagram! Since it's inception, the social media platform has been a resounding success. It has enabled all of us to post photos of that idyllic holiday location in the Caribbean to simply sharing our day-to-day life whether it's boring or exciting. What can be better than this? One word – shopping! We detail six reasons why shopping on Instagram is absolutely sensational.
1. Discover Inspiration & Creativity
Instagram has evolved into more than your standard social media app. Long gone are the days that we follow our circle of friends. We now follow inspirational leaders, celebrities, fashion retailers, and exceptional brands. One thing that they all do? Provide inspiration!
Inspiration is all around us, yet we somehow take it for granted. However, Instagram acts as the perfect foil to get the cogs in your mind turning, nurturing ideas, before turning them into something real and tangible.
How often have you found a piece of clothing or art that immediately inspires you to take action? We bet quite a few! Instagram sows those first seeds of inspiration that can have a phenomenal impact on your life in both the short and long term.
What's more creative than selling preserved roses that last (almost) forever! Check out Charming Roses Toronto and be inspired by their beautiful assortment of preserved roses for your next gift idea.
2. Find Brands & Products that Resonate
As with any media, businesses – big and small have social media accounts to promote their products and services to improve the way that they appear in Google Search and Facebook Search. While some people may dislike the way that some businesses operate, Instagram enables you to find brands that you truly resonate with.
Your personal values are incredibly important to you. When you find a brand that takes the time and effort to underlie their own values, they can resonate with your own and create a meaningful connection. Such a relationship is vital for you and the business that you are now connected to.
Finding a brand and product that resonates with you is inspiring and galvanizing. If that brand maintains their values, that in turn will resonate with others and help form a community of like-minded people who believe in similar values.
Shop Michaela Grey sells printed merchandise and every purchase comes beautifully packaged with personalized message "You're Magical" attached to it. In an environment where voices get marginalized without hesitation, a personalized merchandize with an affirmation that shoppers have magical powers might just be the motivation they need to part with their money and support this business.
3. Uncover Unique & Exclusive Brands
Large retailers can inundate your Instagram feed with a host of new products or statements of intent that they will commit to some form of initiative. But in that same feed, lies numerous smaller, unique brands that operate in a specific niche. These brands tend to operate as Etsy sellers – individuals who are pursuing their passion by providing their community with incredible, handcrafted products and other services.
Instagram offers these small brands the opportunity to showcase their skills, products, and services instead of solely relying on Esty Canada or other platform to drive traffic and generate sales. By supporting these unique brands, you are in turn receiving a product that you know exactly who made it and where it came from. In addition to this, you are enabling that Etsy seller to continue pursuing their passion and live a meaningful life because of it.
Beauty might be skin deep but everyone still wants to feel a profound sense of identity with every beauty brand that they purchase. Lisa of LQ Body Solutions carries an exclusive line of beauty and aesthetic products that you can only find at direct distributors. So, if you are looking for unique functional beauty products, browse her Grammedit profile and her website to shop her selection of premier beauty products.
4. Customized Service Just for You
No one likes to be treated like a number! This is the primary issue with large retailers who need to register an exorbitant number of sales and profits. While in the end it isn't necessarily their fault, the fact that you have been treated like everyone else definitely leaves you with a sour taste in your mouth.
Instagram sellers understand how to work around this. DM's that are used effectively by you and a seller can help you understand the product/service, enabling the seller to provide a customized result that meets your every single need. This is how we want to be treated!
Instead of waiting for customer support to answer your query, you can speak directly to that person responsible for that product. That person who has spent countless hours and effort to cater towards YOU.
Maria of The Charming House Collection is a seasoned interior designer as well as crafty business woman. Using her flare for design, she creates home decor items to enhance her client service and meet the unique tastes and preferences of her customers. Now that's customized customer service.
5. Provides that Special Touch
Although it is closely connected to customized service, that personal, special touch deserves its own time to shine! As humans, we crave the attention of others as well as being treated like a REAL person. Since many businesses are not able to do this, smaller Instagram sellers are able to fill this void.
An Etsy shop owner is far likelier to acknowledge and understand exactly what you need and provide a catered service. By supporting them, they can continue providing that special touch for others that are passionate about their brand.
From sweet treats to empanadas, Magu Sweets And More makes custom finger foods that are as good as any restaurant. Nothing gives a special touch to your next celebration than having catered by finger foods from Magu Sweets And More made to your specification.
6. Support Local Businesses and Artisans
Large retailers that have sought to take control of their industries has unfortunately resulted in many local businesses and artisans having to close. This impact has dire consequences and ultimately results in the loss of experts in a specific niche – often for good. But we all have the power to change this.
By supporting local businesses and artisans on Etsy, they then have the power and the means to continue with their businesses – empowering others to pursue their own passions.
Pet Fashion designer XS And Oliver makes fashion accessories for pets and their owners. Take a look at the matching scrunchies and dog collars in their feed and you will immediately feel inspired to support this local business.
View this post on Instagram
How Grammedit Enhances Your Business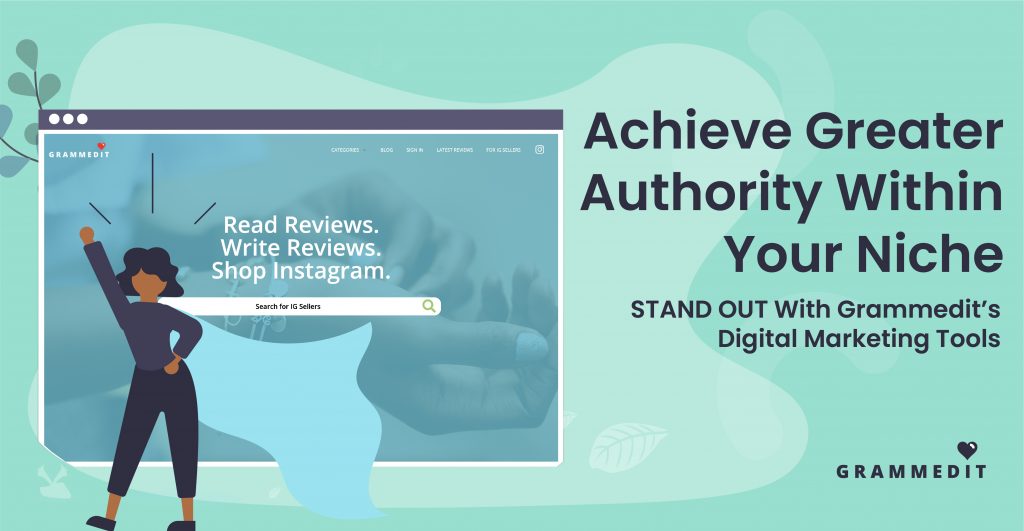 Many digital marketing strategies seek to improve the effectiveness of a business and its profile on social media, specifically Instagram. But many smaller businesses who are run by one person (possibly you), struggle to find the time to invest in developing a powerful digital marketing strategy.
Grammedit alleviates this pressure by providing you with the first-of-its-kind reputation management system and ratings programme. The platform enables you, as a small business owner to improve your authority and become the leader within your niche while forming lasting relationships with people that share your values.
A key component of Grammedit is the reviews and ratings process that has not been available for Instagram sellers like yourself – until now. Grammedit allows your followers to gain a real understanding of your business thanks to descriptive reviews that bolster your reputation.
Improving your authority and reputation is essential in growing your business. By partnering with Grammedit today, you immediately enhance your chances of success. But more importantly, you inspire meaningful change within your community.
Additional Benefits of Grammedit
Your followers are craving that special touch! Grammedit helps you to achieve that and more. Growing your authority and reputation are just two sensational benefits that you can expect when partnering with Grammedit. But you can also expect to receive additional benefits as outlined below.
Improved brand recognition.
Facilitates greater communication between you and buyers
Accurate and detailed analytics.
Increase in site traffic.
Attracts a larger, dedicated following on social media – especially Instagram.
Consistent flow of prospective customers.
Greater authority within your niche – a result from the review and star rating process.
VIP access to the first flexible ecommerce platform for social media (coming soon).
Final Thoughts
Instagram is sensational for finding those pair of shoes for your next hiking trip or finding that next location to travel to. Few platforms can inspire action like this and even fewer enable small businesses to reach out to a wider audience that share their values. As a business owner, Grammedit can elevate your brand to new heights while helping you maintain the values that you have worked so tirelessly for.
What inspiration have you found on Instagram? Share what has inspired you and how it impacted your small business and personal life in the comments section below.