Making the decision to create a great Instagram shop often seems like a no-brainer. This 'build it and they will come attitude' has seen success in the past, but to make your Esty Canada store stand out, you need to understand exactly what the anatomy of an Instagram shop is. Search engines beware! You're about to rocket up those rankings!
Business Name – Relevance is Key
Businesses are comprised of a variety of names (many obscure), yet the most successful businesses on Instagram and other social media have a name that's relevant to their product or service. This relevance is absolutely essential. A relevant name is easy to remember, allows for associations to be made, and makes your ambitions and objectives incredibly clear.
While a clever business name is not a pre-requisite for long-term success and customer acquisition, you may need to rethink your business name before you set up your Instagram shop. Some businesses can escape with an 'out-of-the-blue name like Google or Apple, but these are two exceptions that are incredibly rare. Keep your business name short, simple, and to the point. But above all, make sure that it is relevant and easy to remember – even for those people that see it out of the side of their eye while scrolling through their feed.
150 Characters. That's all you have! With so few characters to describe your business, it can be difficult trying to find the perfect play on words that sums up what you do. There are several components in crafting that ideal bio, yet the most important is including a keyword associated with your business or niche.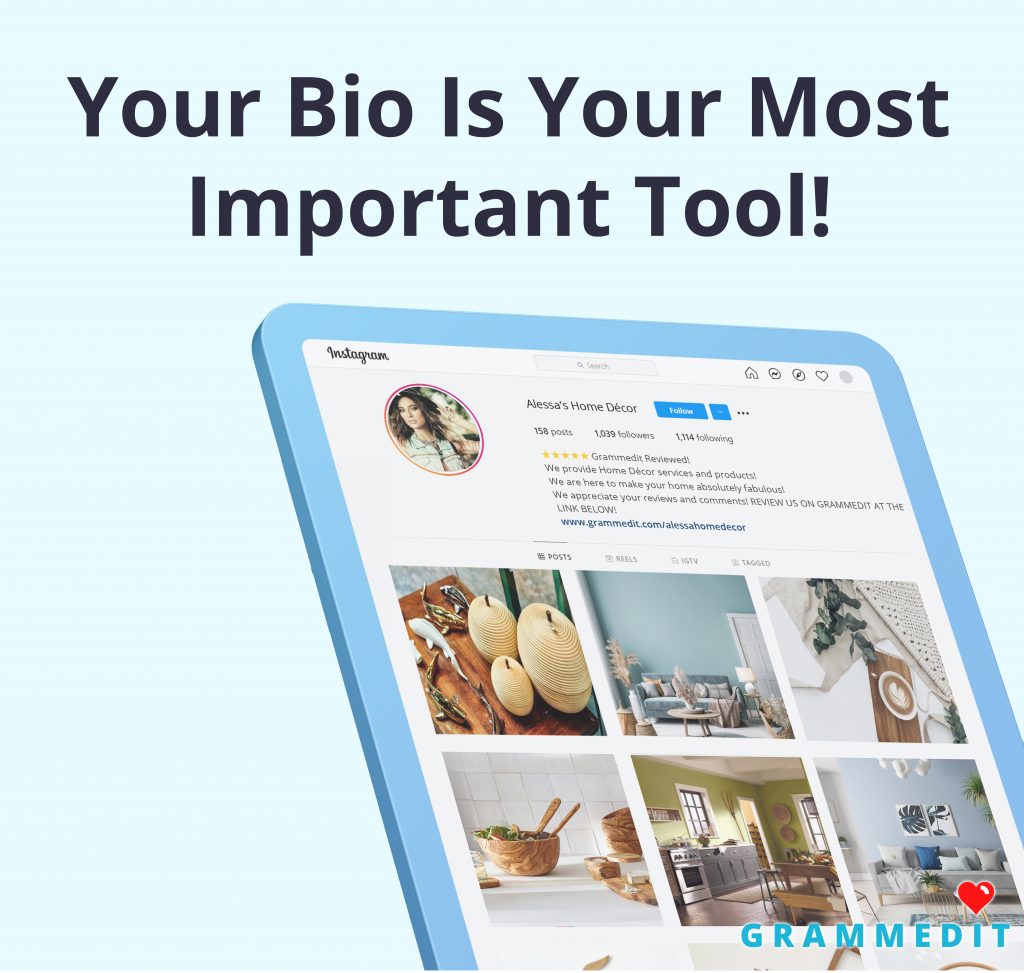 A Relevant Keyword for Your Niche
Imagine you're a jewelry designer and are hoping to launch an Esty store to accompany your new Instagram shop. Within your name and the bio section, you want to include the keyword – jewelry. Not only does this help your SEO within Instagram, but it also helps strengthen your position among the top results in search engines such as Google and Bing.
Short Sentences & A Clear Call-to-Action
Now that you have a keyword in mind, the rest of your bio should be comprised of short sentences. They must present one clear, specific point that encapsulates what you do, what your experience is, and above all – include a call-to-action. This can take the form of a simple link to your website, or if you have enough characters remaining, provide a few more words to make clicking that links even more attractive.
Emojis – But Use Them Correctly!
With a language all on their own, the correct use of emojis can add an extra layer to your bio. Using our previous example as a jewelry designer, you can incorporate an emoji of a ring or diamond, and a trolley next to the link to your Esty or eBay store. All these emojis are relevant to your brand, can be easily associated with, and add vibrancy to your bio.
In a private capacity, we are all inclined to select a photo of ourselves that we think we look fantastic in, or it may simply be a sensational photo. As a business, however, it's best to select your logo with the relevant color scheme of your business. The reason for this is that it continues the trend of relevancy and aids in breeding familiarity amongst your followers and overall target audience.
If you don't have a logo currently, there are many free logo-makers available to create the ideal face of your brand.
Developing a vast list of amazing and supportive followers on Instagram is increasingly difficult. The best way to overcome this – consistent visuals and text that pack an almighty punch. The pictures that you use for your Instagram posts and IG stories are what attract the eyes of your target audience and prospective followers. If it's not attractive enough and doesn't captivate their attention, the likelihood of them clicking that blue follow button decreases every second.
Since your visuals play such an important part of your feed, it is essential that you use images that are high quality, showcase your brand in a positive light, and most importantly have that 'WOW' factor. Link this with captivating text that strengthens the post, and you are now in possession of a post to promote your business and products. The last bit of work to be done? Create these posts on a consistent basis with consistent images and consistent text.
DM Communication Strategy
While large retailers tend to attract the most attention on Instagram and other social media platforms, small businesses are growing dedicated followings who they can interact with and nurture relationships. The key to achieving this is course – using DM's. DM's are fantastic at promoting communication between you and a prospective customer as it enables you to answer questions, understand concerns, and point a prospective customer in the right direction to place an order.
The direct messaging tool while extremely effective on Instagram can be strengthened even further thanks to Grammedit. Grammedit is the first dedicated reputation management platform for Instagram and is instrumental in enhancing small businesses. The platform affords small businesses with the chance to grow their authority within their niche thanks to the review and star ratings system.
Through Grammedit and your DM's, you can showcase your brand to your followers and put them at ease as real, tangible trust can be built through your new-found authority.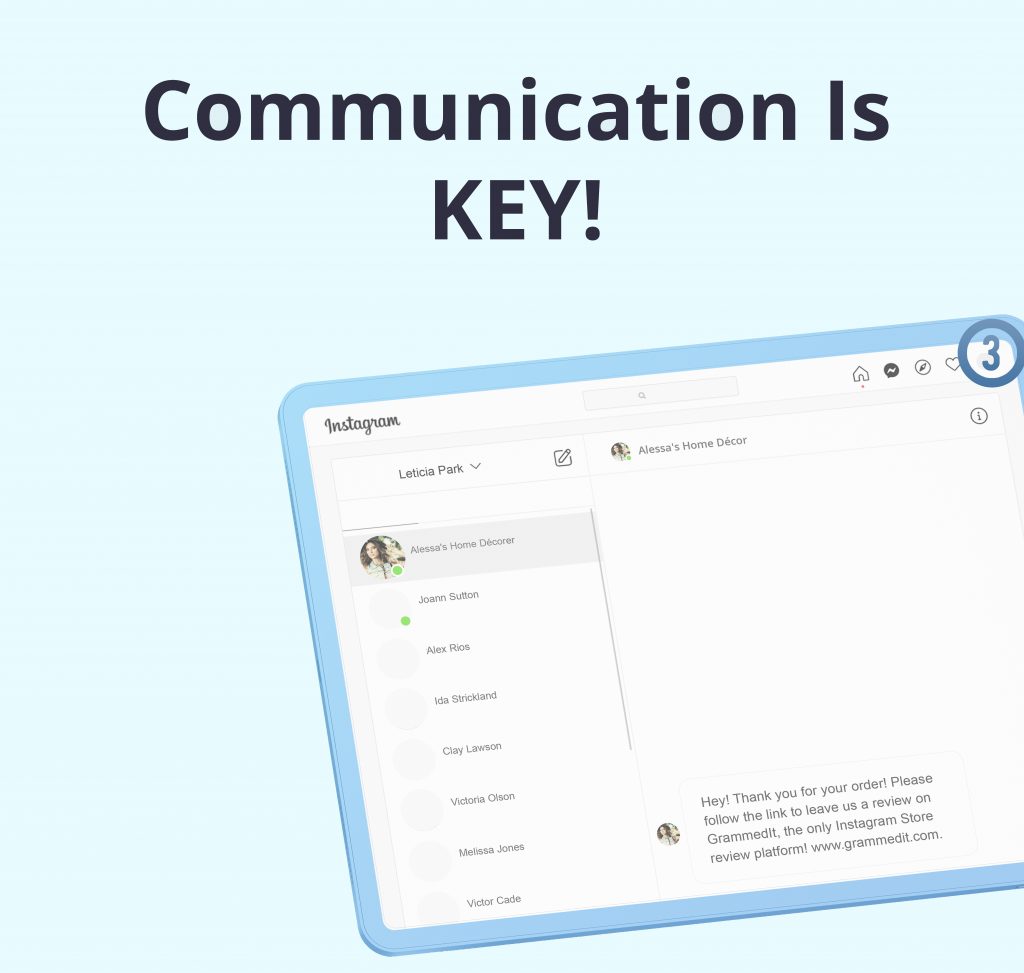 Now that you have sensational posts and stories that reflect your brand and resonate with your followers, it's time to make those posts shoppable! The decision by Instagram to include this technology has been a revelation as it now enables your followers to click on a product that they love and are instantly directed to that product on your website.
To do this, you need to ensure that your account is a business account which can be done by connecting to a Facebook business account. From there, all you need to do is create a product catalogue within the Facebook business account. Shortly thereafter, you can add shoppable tags on your Instagram posts and stories.
Be mindful that you don't want to spam your followers with constant product posts and offers. Instead, use them sparingly and according to your digital marketing plan. By striking a balance between amazing posts and other shoppable posts, it allows time to generate interest and further intrigue in your brand and product.
The Additional Benefits of Grammedit
The success of your Instagram shop in the short-term is imperative as it provides a fantastic foundation on which to build on. But Grammedit holds the key in improving your prospects of long-term victory. Your Instagram shop is just the start. By partnering with Grammedit today, you can expect to receive these additional benefits to expand your reach and grow your brand.
Greater brand recognition.
Facilitates greater communication between you and buyers
Accurate and detailed analytics.
Increase in site traffic.
Attracts a larger, dedicated following on social media – especially Instagram.
Consistent flow of prospective customers.
Greater authority within your niche – a result from the review and star rating process.
VIP access to the first flexible ecommerce platform for social media (coming soon).
Final Thoughts
Small businesses who have struggled to make an impact in the past now have the opportunity not only to succeed but also make a profound impact on their followers and community. A robust Instagram shop is an important factor in achieving this. Take the time to understand your brand and build an effective digital marketing plan that outlines how the Instagram shop will work within your overall business strategy.
Have you had success with your Instagram shop? Share how you achieved your success in the comments below.